Ugh, being reduced to single-display mode sucks. Sure, it allows me to focus better, but I hate having to alt-tab to check reference images and such. Boo. That said, it's WIP time after a loooong break from the Ramen, and it's the long awaited "junk food" piece: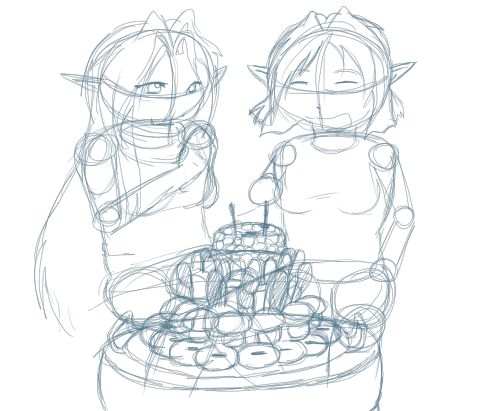 When a dragon's gotta eat, she's going to eat. At EPIC proportions.
Deeum has something that she makes Velan prepare every so often… the "Dragon's Nest," a platter of sweets that no smarmy human could hope to conquer (though they're damn welcome to try). Donuts, muffins, twisted/glazed bar donuts, marshmallow squares (aka Rice Krispy Treats), Twinkies and, on top of it all, a glazed cinnamon pull-apart bundt cake. If that doesn't sound evil, I don't know what does.
Hikaru joins in for this session of face-stuffing (dragons gotta fuel the regen somehow). As much as she hates that this requires another kitchen explosion to create… well… you can't say no to a mountain of sweets. Woe unto anyone who dares to steal even a single piece off that pile. Even if you're Chelsea. (I would also think that Numair would know that it is NOT worth being subject to a Deeum-brand clobbering… Hikaru would probably just glare him into the floor and, uh, not do anything to help. Yeah. that's right.)
There's still some things to be added in (like the couch and the milk/coffee pitchers and such) but you can see where my priorities were in this wireframe. :P
Why do I do this stuff at 3:30am? Ahahaha.
Tags: characters welcome, deeum, food, instant ramen, wip